Her Name - Her Character
Imagine a scene in a spy thriller film: the spy has virtually succeeded in working his way into the enemy organization. He's acting under a false name and does everything as he should, passing the most challenging fitness tests and is virtually accepted. But just before he's taken in as member of the group, someone calls him by his real name - and he turns around.
And that's it - his cover is blown.
Our name is an inseparable part of us, part of how we define ourselves, a unique, personal attribute that follows us all our lives. Therefore, it's no surprise that the most common gift for girls is a name necklace.
Name Necklaces for Children - an Unforgettable Gift
A name necklace is an ideal choice for a gift.
On the one hand, it's very personal and is specifically intended for the person to whom we are giving it as a gift, and on the other hand it's a safe bet: a name necklace is always fitting.
It's a great gift for starting school, for a birthday, Bat Mitzvah / confirmation and similar significant events.
But a name necklace isn't just for girls - many women like to design and get one for themselves.
We also get quite few requests from customers for necklaces with the name of their children - such that we can really say that they like to keep their children close to their heart.
Matching the Design to the Character
A name necklace should be special and personal, just like your name.
Accordingly, we have created an online wizard to enable you to design the pendant to suit the character of the recipient of the gift.
You can choose to have the name in English or Hebrew, and to match the font of the letters to the person's character.

Sapphire - A modern font, suitable for those with a sense for fashion.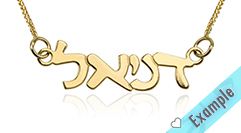 Amber - A square-shaped font with a special touch. Suitable for those who like a classic style with a twist.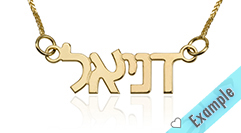 Topaz - Round letters with a mischievous air. For those dreaming of adventure and for something out of the ordinary.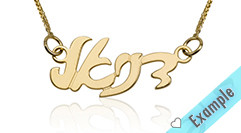 Jade - Letters in a delicate outline, for those with a unique and special character.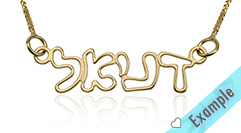 Opal - A great combination of round and square letters. Suitable for those who know how to make the most of everything.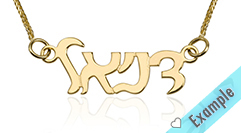 Pearl - Traditional print font. Suitable for those who like to broaden their horizons.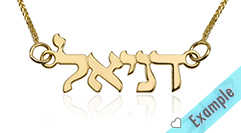 Diamond - A young and lively font. For those who like life at a fast pace.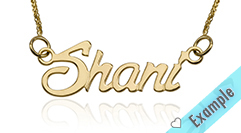 Onyx - A font in a young spirit in a cursive style. For those who were born to make merry.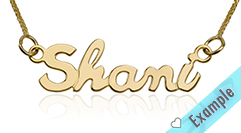 Moonstone - A unique and strong font, for those who are not like anyone else.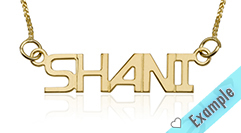 Agate - Round, upright lettering. For those who know what's right and proper.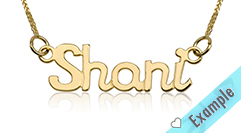 Coral - Modern style font, suitable for she who's in the know before everyone else.


Ruby - Round letting with a slight slant, suitable for those with ambition to get on.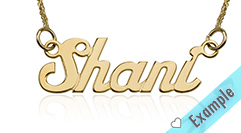 The Choice is Yours
After selecting the suitable font come the choice of metals: silver, white gold or yellow gold. Then the necklace type and length.
Finally, you can add a charming decoration to add a special and personal touch.
Want to have a try at designing one yourself? Click here.
If you'd rather have some help and advice in designing your necklace, just get in touch and we'll be happy to help!