Decorative Delight - An Addition to a Name Necklace
Name necklaces for girls is our most beloved items, because they are for your beloved.
Name necklaces for girls are always a perfect gift:
For birthdays, start of the school year, Bat Mitzvah or confirmation.
A name necklace is always a personal gift that brings delight - who doesn't like to receive a beautiful sparkling gift made just for you and no one else?
Our name is something personal and unique to us, and its sound is familiar already from our childhood ..
Is it possible to add a personal touch to this most individual of presents?
Of course! It's possible to add a decorative element to to the necklace to make it complete and perfect, something truly unique and personal.
How can we add a decoration to a name necklace?
In two ways: you can go on our Design Wizard, and there choose the font, type of metal, type of chain, length and decoration.
Or you can choose from our Name Necklace page.
And now, please meet our fabulous decorative elements:
A stunning and sparkling decoration made from high quality zirconia stones.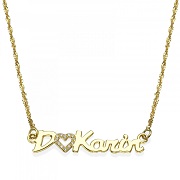 Decorative element under the name: It starts under the first letter and finishes under the last letter.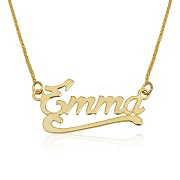 Bird Decoration
A hanging decorative element in the shape of a bird in flight: it's connected to the last letter with a loop.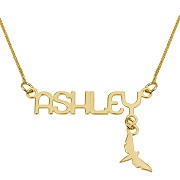 .
A decorative element that starts with a little twirl under the first letter and finishes off with a split.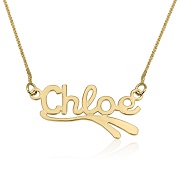 Decoration with nine lines in varying lengths, with the name resting above.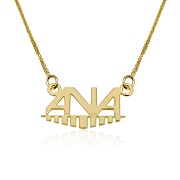 This decorative element starts under the first letter in the name and finishes off a bit after the last one, in the style of a brush stroke...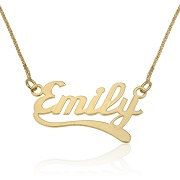 This decoration starts at the last letters of the name, in the shape of a flat figure-8. This shape has no beginning and no end, just like the infinity in which we live.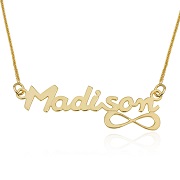 All of the decorations and necklaces are available in yellow gold, white gold and silver. You're cordially invited to choose the decoration that most speaks to your unique self!