Pearl - Blessing of the Sea
Since the dawn of time the pearl has been thought of as a special and rare gift of Mother Nature.
The pearl is a semi-precious stone which comes from oysters, and the process of their creation is an especially interesting one.
It's made of organic material produced by the oyster, which tries to protect itself from a foreign body that has entered its shell.
The oyster produces this material, which creates a coating over the foreign matter which protects the delicate oyster from being damaged by the foreign object in its midst.
The layers build up on on top of the other until a unique, special pearl is created.
Is it the way the pearl is created that creates that wonderful desirability, or is it its inherent beauty and unique appearance that captures our affections?
Either way, it's a semi-precious stone that has been used as decoration since the dawn of time across cultures.
Here at youme we have embedded pearls across our collection - we invite you to choose your favourite.
Pearl Earrings for Women
Pearl earrings for women are elegant and stylish, in which the pearl gives a distinctive stamp of originality and beauty.

Golden Pearl
Dangling earrings from white or yellow gold, designed in a cone shape decorated with half moon shapes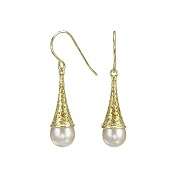 Hoop earrings with a dangling element of solid pearl in yellow gold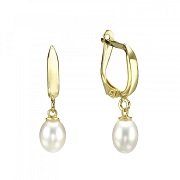 Twisting cone shape with half-moon decoration, finished with ellipse-shaped solid pearl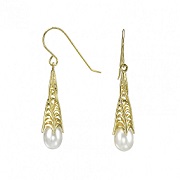 Pearl Earrings for Young Women
Pearl earrings for girls combine the classic with modern
Close-set hoop earrings decorated with a pearl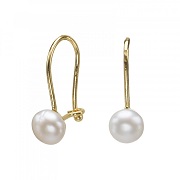 Hoop earrings with a pearl at its center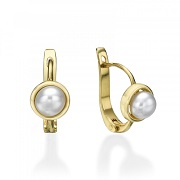 Hoop earrings with a dangling charm of tear-shaped pearl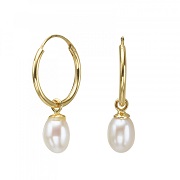 Pearl Earrings for Girls
Pearl earrings for girls are usually stud earrings, with a secure safety fastening. These earrings will only add add to the charm of your beautiful daughter and decorate her little lobes.
Stud earrings with a pearl at its center surrrounded by gold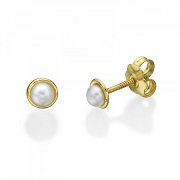 An earring that is all pearl - a classic beauty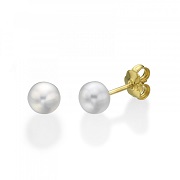 Stud earrings with a pearl and a zirconia stone settled on top - a little win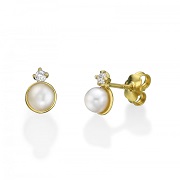 Original stud earrings with white and yellow gold, at at its center a pearl in a unique and modern design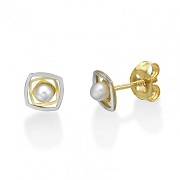 Earrings as a heart with a solid pearl in the center of small glittering zirconia stones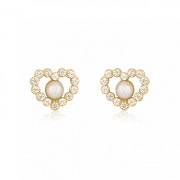 !And there's more
.Pearl earrings for girls and young women are waiting for you here
Want some advice on choosing the best pearl earrings for you? Get in touch