All That Glitters is Gold and Zirconia
Earrings have decorated the earlobes of humanity since the dawn of civilization.
Actually, the oldest item of jewelry is mentioned in the bible - earrings.
In that regard, this lovely item of jewelry received a place of honor, but this is not the only proof to its great history.
In archeological digs in Egypt, earrings were found to have dated from 1425 BC, and in Greece were found earrings that graced the ears of its wearers 100 BC.
Since then a couple of thousands of years have passed, and earrings have been worn in the earlobes of men, women, and children of variety of cultures, religions and nations.
In many place in the world, earrings are a symbol of prestige but also to denote slaves.
Today earrings are virtually as a 'must', especially in the jewelry box of women and girls, but many men also like to adorn their ears with beautiful little delights of splendor.
Earrings of all Shapes and Sizes
At youme, our speciality is in gold jewelry, and our earring collection includes hundreds of examples in a fantastic range of styles and designs.
Our gold jewelry is made from solid 14K gold and meets international standards.
Is it possible to transform a sparkling piece of designer jewelry into one even more glittering? Yes, absolutely! Meet the zirconia stone.
Zirconia Stone - Even More Beautiful Than A Diamond
The zirconia in a unique mineral, enduring through geological processes.
The color of the zirconia changes, which enables designers and goldsmiths to create colorful and joyful items of jewelry.
The most common colors of zirconia are: golden yellow, red, brown, yellow, green, blue, black and stones without color - another words an appearance of crystal, clear, or somewhat transparent.

It's unique characteristics and appearance have made the zirconia stone especially useful for the jewelry industry and scientific community.
We chose to set this special stone in a selection of earrings in order to transform the glittering gold pieces into even more sparkling. Here's a small selection of our zirconia stone collection:
Gold Earrings with Zirconia Stones for Girls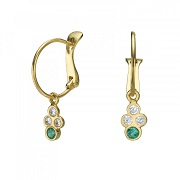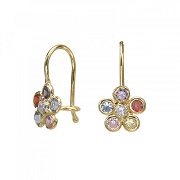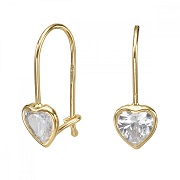 Gold Earrings with Zirconia Stones for Women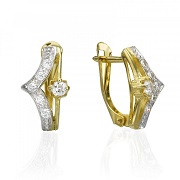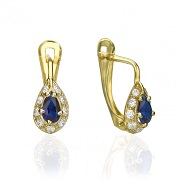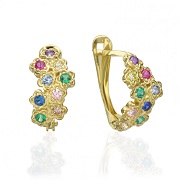 Need some help narrowing down your choices? We'd love to hear from you and give you a hand, just get in touch!